L.A. Pillow & Fiber, Inc.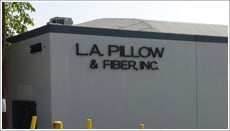 L.A. PILLOW & FIBER, INC was started in 2003 by Michael Turner. After working for more than 20 years in the polyester fiber pillow and batting business with father, Paul Turner, L.A. PILLOW & FIBER, INC was started to do contract cutting and sewing, producing pillow inserts for the furniture trade along with custom made contracted dog beds and throw pillows. In 2006, son Sean Turner joined the company to help run the everyday operations.
Using a very similar formula for business as TURNER FIBERFILL, INC. , L.A. PILLOW & FIBER, INC is focused on service and quality. Using only first quality fibers processed fully through
our well-maintained equipment. We take pride in making only the best pillows for our customers. Now with over 30 years of experience behind it, L.A. PILLOW & FIBER, INC produces hundreds of thousands of pillows each year.
Our products include both blown fiber and garnetted fiber pillow inserts and dog beds made from a variety of polyester fibers. We offer everything from slick polyester to recycled polyester depending on your needs.